MUNA
MUNA lives underground, free as a forest animal, like a castaway on his island. Every morning she walks the park in search of forgotten treasures. Every day the same story, until one day she decides to find a way to climb up to… the moon!!
A visual and sound excursion for those who discard the gift and play with the box.
A trip to a place without clocks, without impossibilities or rules.
Live music with out of tune cans and toy guitar.
Color and heat in equal parts.
"The world is full of things, and it is really necessary for someone to find them."
Astrid Lindgren, Pippi Longstocking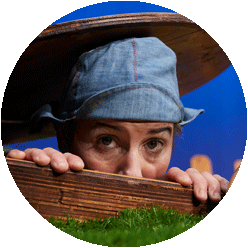 Performer: CECILIA PAGANINI
Live musician: TXEFO RODRIGUEZ
Lighting design: ION CHÁVEZ
Music composer: QUICO PUGES
Scenography construction:GORKA GANSO & OSCAR DE PAZ
Photos: Asier Bastida
Graphic Design: SR. SOMMER
Creation: GORKA GANSO & CECILIA PAGANINI
Direction: GORKA GANSO
Management: ROCÍO PINDADO – PORTAL 71