ALPHA
bedtime
When the light goes out, shadows awaken.
When the light goes out, dreams whistle.
When the light goes out, everything is infinite.
When the light goes out, it's time to SLEEP.
"Everything we see is nothing but a dream within a dream"
Edgar Allan Poe
Sleeping is a physiological necessity. An almost always pleasant routine that we repeat every day. When we sleep, our subconscious leaves the door ajar, giving way to dark dreams, forgotten memories or involuntary fantasies.
ALPHA recreates that moment of transit between consciousness and the universe of dreams. Comic experiences of a character victim of his own fantasies, an opportunity to laugh at fears, fears and universal experiences.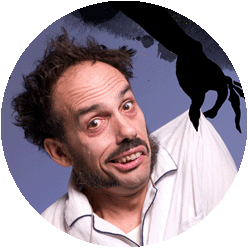 Indoor Theatre
No text
55'
For all audiences (+5 years old)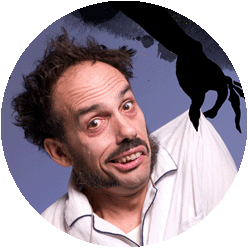 Performer: GORKA GANSO
Live musician: IÑAKI SANTOS
Lighting design: ION CHÁVEZ
External supervision: ELISE OUVRIER-BUFFET
Scenography construction: OSCAR DE PAZ
Illustrations: BEA APARICIO
Animation illustrations: TRACKEN STUDIO
Photography: VICENTE PAREDES, AITOR MATAUCO
Graphic Design: SR. SOMMER
Direction and creation: GORKA GANSO & CECILIA PAGANINI
Distribution: ROCÍO PINDADO – PORTAL 71